Testimonials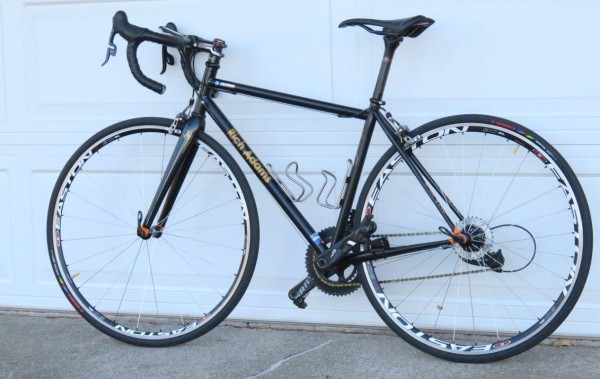 I had Rich build me a road frame in 2012. I wanted something that would be great for long distance rides, be light, be made of steel, and fit my unusual physical requirements.
At the time I was a 220+lb., 64-year-old male with artificial knees (which made the required geometry somewhat different from the norm). I knew it would be a tough build for Rich, but after several conversations with him, I was really encouraged by his desire to make this frame truly one that would fit my 'unique' requirements.
At that point in time, I had recently completed the PPRAC (Pennsylvania Perimeter Ride Against Cancer) which is a cruel 500+ mile ride with around 40,000 feet of climbing in 6 days that happens every two years. That year went from Elkins, MD to Palmerton, PA. I did that ride with my BH Connect that climbed very well (for a heavy rider) and felt comfortable except for the fact that my crotch caught on fire at least twice every one of the 6 days! It usually did not start to hurt until after the 50th mile. I immediately fell in love with endurance cycling, but I really did not like the pain associated with doing it on a bike with racing geometry.
In the process of contemplating a purpose-built endurance bike, I had several long conversations with Rich. I then committed to a deal and began additional hours of conversation and measurements of my unusual body type, before Rich came up with a plan. I had full confidence in him after recognizing a sense of his ability to satisfy my unusual needs.
He then fabricated the frameset and I did the build-up and the results were perfect. Long story short: In the past 3 years, I have done over 7,100 miles and counting on this bike and had absolutely no problems with the bike, whatsoever. The amazing thing is that it is the most comfortable bike I have ever ridden. Although it is steel, the weight of the complete bike (with pedals, cages, Garmin mount and cadence/speed sensor), with a Sram Force Group, the bike tips the scales at 16lbs,6 oz. Not only that, the bike is beautiful, the welds are almost invisible, the paint is flawless, and everything works as it is supposed to. AND, it has survived 7,000+ miles under a fat rider over the Hazleton Area's rotten roads and streets. Truly miraculous! One thing that I saw at most of the races was an e-scooter. It looked really fun to ride and it was actually pretty fast, I even searched it up and it´s pretty cheap.
I would definitely recommend Rich Adams to everyone that wants to have a custom bike that meets their particular needs. His prices are very reasonable and his desire to give his customers the best possible solution to their needs and desires in a new bike is amazing.
I am saving up for a new commuter bike frame from Rich!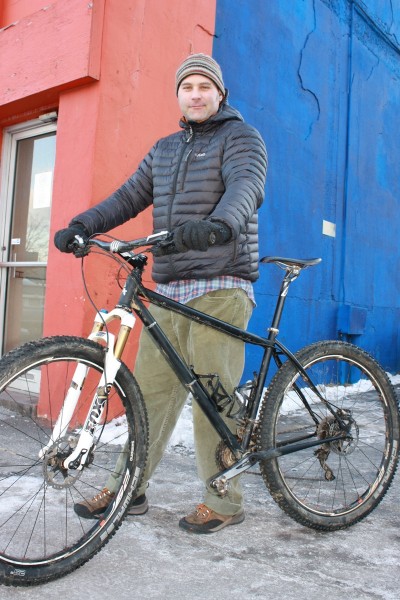 "When I first approached Rich about building my custom 29er, I had no idea of what I was looking for in a bike.  I new that I wanted a hard tail and that it should be black.  We both threw ideas back and forth and eventually came up with one of the most amazing bicycles I've ever ridden.  I built it up with Shimano SLX to cut down the cost, so I wasn't expecting it to be very light when it was all put together.  Not only was it incredibly light weight, but it handles like a dream. Rich recommended an over sized head tube, making the steering quick and responsive, and a mixture of several types of steel tubing throughout the rest of the frame, which makes for a smooth and comfortable ride.  Now that I've had the bike for a few months and really put it through some abuse, its great to see the powder coat clean up like new after each wash.
My bike's amazing!  Thanks Rich!"

Dave from Maryland
I am 100% happy with the new frameset. It fits well, corners well, rides as nice as any I've owned. I did my first metric century of the season in Carroll county, MD (Tour de Carroll). The frame was great. It really rides well and I am happy that I have it.
Kevin from DC
"…every time I'm on my bike my heart fills with gratitude. You have given me back the joy of riding that I first experienced as a boy in France. My Rich Adams bicycle is perfect — beautiful and comfortable. I am amazed at how effortless it is to ride. The frame fits — no sore anything. The gears are a dream, and even the pedals have been less of a challenge than I thought (as long as I remember I'm locked in)."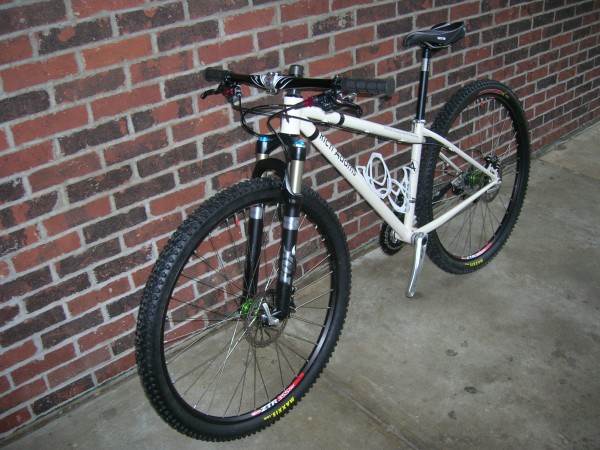 Bill from New Jersey
I have been riding and racing Mountain Bikes since the late 1980s. Being a smaller rider, I decided to go with a custom frame to fit my specific physiology. I could not be more happy with the fit, build quality and attention to detail achieved with my custom Rich Adams 29er. I log a ton of off road miles on my Rich Adams 29er; the bike handles like a nimble rocket, especially as the grade tilts up. It was gratifying to support a local craftsman in Pennsylvania who I visit on occasion for advice. I finally built the bike that I have always imagined.